WIOA Adult Services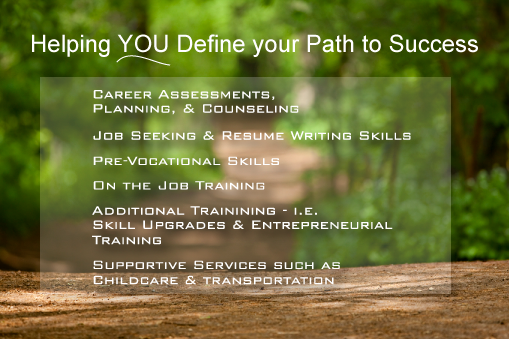 The WIOA Adult Program is one of three federal programs funded through the Workforce Innovation & Opportunities Act to assist workers in finding meaningful, family-sustaining employment. Eligibility information and list of services provided are below. For more information about the WIOA Adult program, contact Ana Rivera, (920) 720-5600. The following Services are available through the WIOA Adult program: Career Assessments, Planning & Counseling; Job Seeking & Resume Writing Skills; Pre-Vocational Skills, On-the-Job Training, Additional Training -i.e. Skill Upgrades & Entrepreneurial Training; and Supportive Services such as Childcare & Transportation.
How to Apply
To apply to the WIOA Adult program, contact the appropriate WIOA Adult subcontractor, listed on our Partners page.
Eligibility
The WIOA Adult Program is open to adults 18 years of age or older living the in Fox Valley Workforce Development Area (Calumet, Fond du Lac, Green Lake, Waupaca, Waushara, and Winnebago Counties) whose income is at or below 200% of the federal poverty level. These amount are listed in the table below.
| | | | |
| --- | --- | --- | --- |
| Family Size | Annual | 100% FPL | 200% FPL |
| 1 | $12,060 | $1,005.00 | $2,010.00 |
| 2 | $16,240 | $1,353.33 | $2,706.66 |
| 3 | $20,420 | $1,701.67 | $3,403.34 |
| 4 | $24,600 | $2,050.00 | $4,100.00 |
| 5 | $28,780 | $2,398.33 | $4,796.66 |
| 6 | $32,960 | $2,746.67 | $5,493.34 |
| 7 | $37,140 | $3,095.00 | $6,190.00 |
| 8 | $41,320 | $3,443.33 | $6,886.66 |
| 9 | $45,500 | $3,791.67 | $7,583.34 |
| 10 | $49,680 | $4,140.00 | $8,280.00 |
| Each additional person | $4,180 | $348.33 | $696.66 |
Contact
For more information, please contact us via:
Phone: (920) 720-5600
Email: info@fvwdb.com