Register for LEAN
FVWDB Inc. offers a number of tailored training programs designed specifically to meet your business or organization's needs. Because we understand that every organization is unique, we always begin with an assessment of your organization. We do this to identify areas that would benefit your organization most so that we can focus on them throughout our training process.
Followed in true LEAN pattern, there are twelve (12) courses or steps in a full LEAN process. Some organizations require all twelve steps, some could really benefit by concentrating on a few steps of the process. Click here to see our full twelve step training program.
New to LEAN? Not Sure Where to Begin? Sign up for our Free Assessment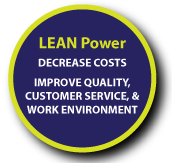 FVWDB makes starting easy. Simply sign up today and receive a free 4-hour Assessment for your Organization! We'll walk you through your organization and identify several areas where LEAN principles will help your organization.
Our assessment is a $500 value - for free! It's purpose is to:
Determine the strengths and weaknesses of your organization
Score & plot 10 key elements of focus on a radar chart
Develop action plans based on the scoring
Place emphasis on the greatest area of opportunity
Key deliverables from our free assessment will include:
An executive summary with a lean benchmarking report
The identification of at least five (5) opportunities for waste reduction in your organization
A graphical view of current state v. world-class
Recommendations and a call to action